Before the pandemic, many people limited their time outdoors. We sat on patios for happy hour and pushed kids on swings at the playground. But many people didn't embrace outdoor living trends until they were forced to spend all their time at home.
Now that more people are home full-time, we've started gravitating outside more. Consider the following 2022 outdoor living trends if you're interested in spending more time outside but aren't sure where to start.
Outdoor living trends your kids will love
Many kids can play outside for hours without much direction. But if your kids like to have an activity to focus on, these three ideas will keep them engaged
Upgrade your playset: If you already have a backyard playset, add a few new elements to keep it exciting. Add a slack line between two trees, or attach a swing at the end of a long rope. For older kids, consider building a reading nook in a treehouse or creating an oversized checkerboard.
Add a basketball hoop or sport court: We often think about putting basketball hoops at the end of the driveway, but what about a half court in the backyard? Adding a sport court will give your kids a place to play ball games, and it gives you a place to take your workouts outside.
Decorate with a garden gnome: With everyone looking for a little escape during the pandemic, garden gnomes and fairy gardens have gotten more popular. For younger kids, consider adding small gifts or toys to the garden as a sign that the garden fairies came to life.
Cool down with a pool: Want the ultimate backyard oasis? Then a swimming pool or water landscapes are just what you need. We will bring the lake to your backyard so you can beat the summer heat.
Upgrade your eating options with these outdoor living trends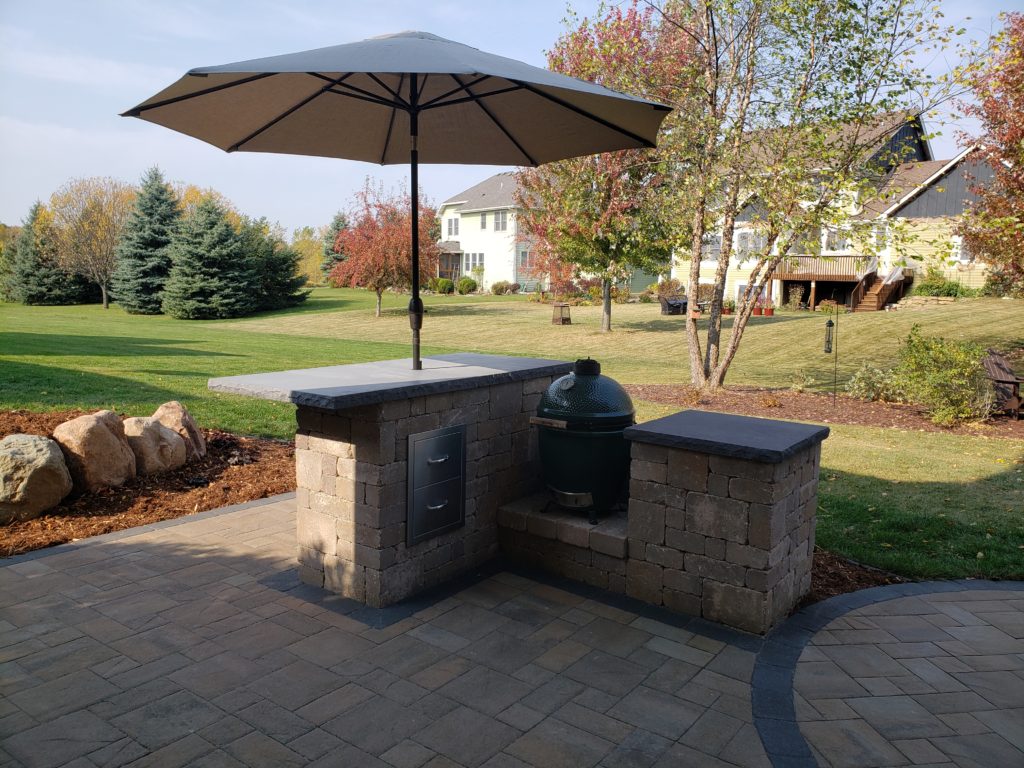 As people gravitated outside during the pandemic, one big trend we've seen is the desire to eat outside. How can you make that happen?
Eat al fresco in an outdoor kitchen: People want to spend time together, and eating al fresco is a safer alternative than cramming around an indoor kitchen table. Add a pizza oven, open-flame cooker, or smoker – any cooking style you can't do in an indoor kitchen can go in your outdoor kitchen.
Plant a mini garden: As long as you're eating outside, get fresh herbs from your outdoor kitchen. Consider planting a small edible garden with basil, chives, or fresh berries.
Add more privacy: Whether you live on a busy street or are close to neighbors, being outside is less relaxing if you're too close to company. New trees or bushes along the perimeter of your yard can bring more privacy, and curtains or moveable screens on your pergola can achieve the same results.
Subtle ways to upgrade your outdoor living areas
We love the big landscaping changes that are prominent in this year's outdoor living trends. But you can also make substantial changes without changing your yard.
Decorate with warm or pastel colors: A pop of color in your outdoor pillows will bring new life to your existing furniture. Adding pastel-colored cushions, umbrellas, or rugs will help the area transition through the seasons.
Upgrade your seating options: Add an egg chair or a rattan stool to bring a modern, unexpected burst of life to your outdoor seating area. Because of its durability, concrete furniture is another outdoor living trend that's taking off.
Consider Pillars and Seatwalls: These add a finishing touch to any outdoor room by adding privacy and definition to your area.
Extend your outdoor season: People in Minnesota joke that winter lasts half the year. That's a slight stretch, but there are ways to extend your outdoor living season without your winter gear. Add space heaters or a fireplace with extra seating, and fill an ottoman with plush blankets to stay warm in the spring and fall.
Are you ready to dig into the outdoor living trends of 2022?
From gardens and perennials to trees and shrubs, McDonough Landscaping can recommend the right plants for your yard and help you create the outdoor space of your dreams. Contact us now or give us a call at (651) 755-7901 to get on our spring calendar, so you can begin enjoying your new, more livable yard!