Project Details:
YEAR: 2021
TYPE: General Landscaping/Patio
About the Project:
The Anderson's moved into their newly-constructed home in late 2021. Shortly after moving, they reached out to McDonough Landscaping to transform their run-of-the-mill backyard space into an inviting outdoor living area with an expanded space for entertainment.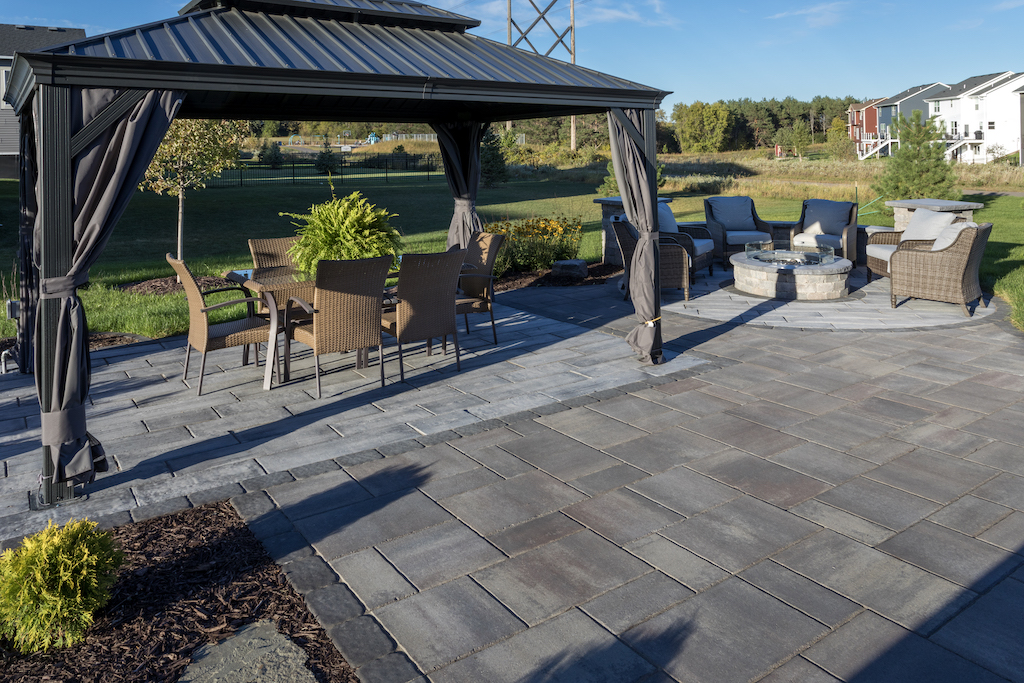 This large backyard supports a design that both accomplishes the Anderson's goals and incorporates several other distinct areas. Utilizing the grade changes of the yard, the space is sectioned into several levels, each distinct with its own colors, textures, and styles.
When visitors first exit the house through the patio doors, they step out onto a maintenance-free deck that leads them to the outdoor kitchen area. The outdoor kitchen is fully equipt for outdoor dining, including a grilling area and a buffet station. Descending the patio steps leads to the dining space, distinguished by a decorative aluminum pavilion. The firepit area with a gas fire insert is also on this level, bordered by a seat wall and pillars.
The extensive hardscapes of the backyard are softened by several lush planting bed areas, featuring a balanced mix of trees, shrubs, and perennials. Thoughtful landscape lighting highlights the beauty of each space for evening use.
Project Highlights:
Maintenance-free deck

Outdoor kitchen

Grilling area

Outdoor dining area

Aluminum pavilion

Firepit

Seat wall

Pillars

Planting beds

Landscape lighting
If you're ready to make your backyard a favorite gathering space for entertainment and relaxation. Just put together your wants and needs list and we'll do the rest. The experienced McDonough Landscape staff members bring the comforts of indoors – outside! Contact us today for a free consultation: 651.755.7901.