January: it's a month that exists in the strange, liminal space of winter between holidays ended, and the dream of spring's arrival. In this quiet lull of the first month of the year, gardeners everywhere begin "plotting" their future landscaping projects. If that sounds like you, read on.
Below, we've rounded up the top 10 landscaping trends for 2023. From considerations of native wildlife, to sustainability practices, to smart tech for the garden, we hope this list invigorates and inspires you to make your outdoor living space the best it can be this spring.
1.) Create an Immersive Garden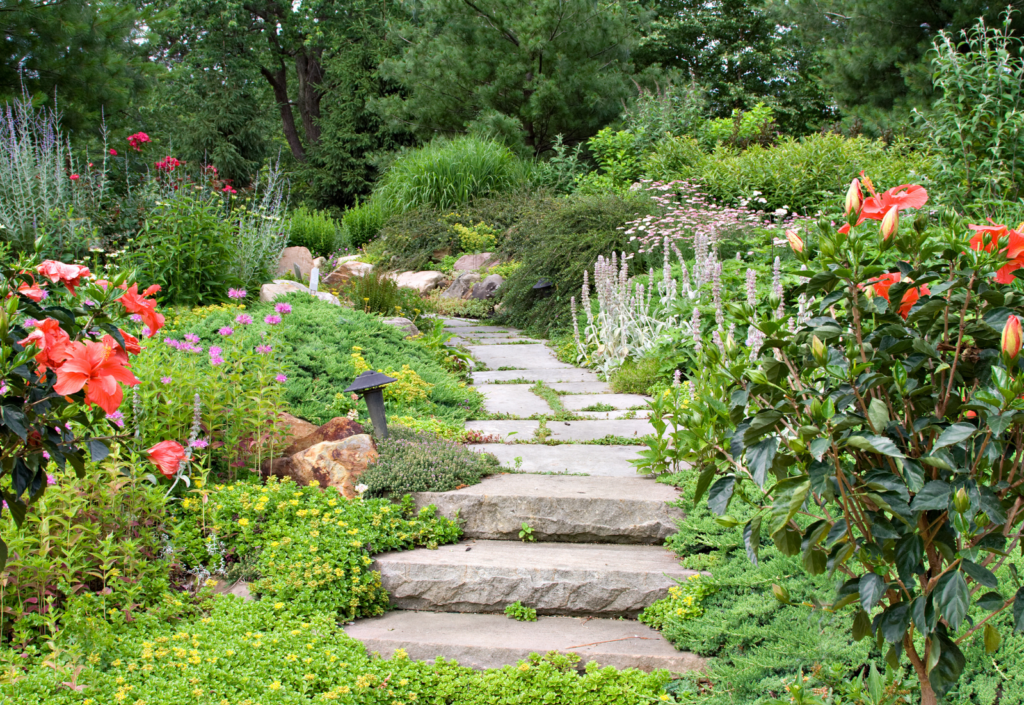 This year, people are looking to create atmosphere and intrigue in their landscapes, and an immersive garden can do just that. The purpose of an immersive garden is to transport visitors to another world of mystery and discovery. Sounds complicated, but you can actually achieve this effect in your garden by using simple techniques.
Create intrigue by hiding elements behind one another, building pathways that visitors simply stumble across, or enshrouding exciting surprises like a secret seating area or artwork. These gardens can be planned and exotic, or can work with the existing environment by highlighting the natural mystery and beauty of the landscape. When it comes to building your immersive garden, your imagination is the limit.
2.) Incorporate Smart Technology
So you've made your home "smart" with all the highest tech appliances you can. Why not do the same for your garden?
If you're tired of the chore of watering, check out the smart irrigation system that monitors weather and knows when to water for you. Does weeding make your back ache? Consider investing in the weeding robot that acts like a roomba for your garden. And have you heard of those robotic lawnmowers? How about the smart mosquito repellents? The list goes on and on. If you want to get high-tech and feel like you're gardening with the Jetsons, 2023 is the year to do it.
3.) Invest in a Retaining Wall
With the crazy weather we've been getting across the country lately, retaining walls are becoming a staple for the average American's backyard, especially if you've got a yard that slopes downward toward your home.
Retaining walls function to hold back stormwater, keeping your home safe from soil erosion, foundation issues, and mudslides, and more. They also add structural elegance to your landscape. But don't be tempted to take this on as a DIY project! Make sure you consult experts who understand engineering principles, soil characteristics, and drainage control to build your retaining wall.
4.) Use Drought-Tolerant Plants Only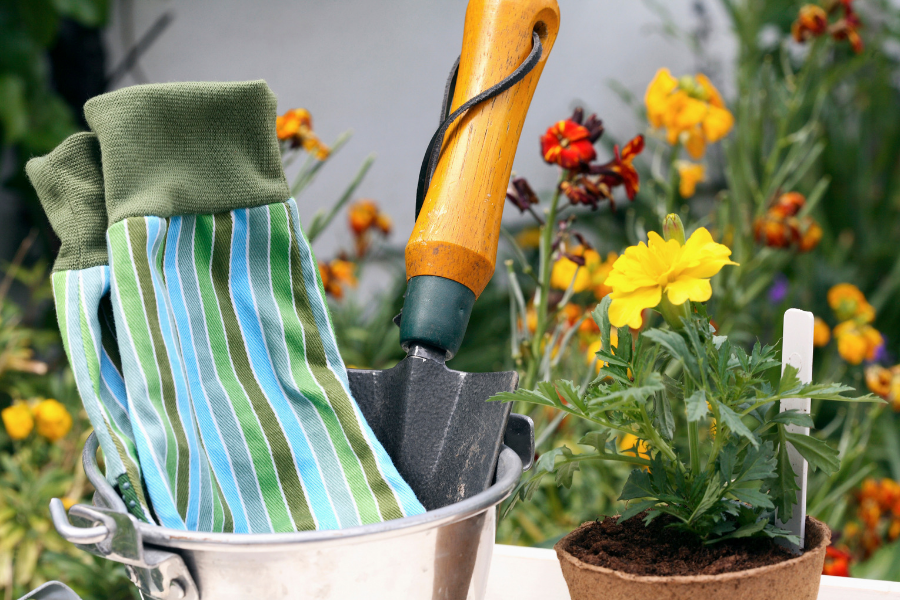 Though Minnesota isn't often drought stricken like the Western states, we do experience some degree of drought every year. That's why each year, more and more gardeners are turning to drought-resistant plants in their gardens.
These plants require minimal maintenance and irrigation which can save you time and money. The best part? Drought tolerant plants are beautiful and elegant, especially when correctly placed throughout the landscape. Here are some gorgeous examples of drought-tolerant gardens for inspiration.
5.) Garden for Local Wildlife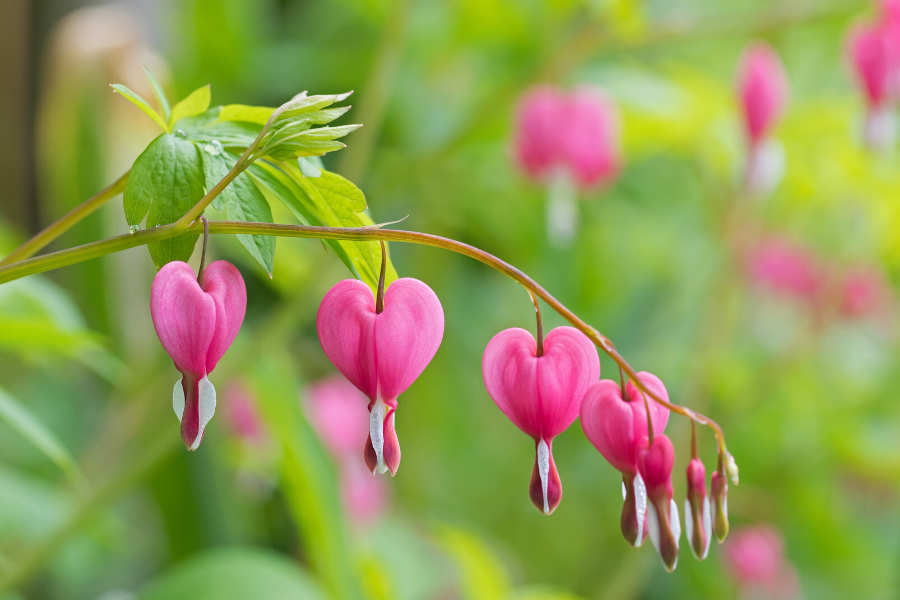 Another eco-conscious trend that has been picking up speed is the focus on pollinator gardens, or gardens created specifically for the benefit of local wildlife.
Normally, you'd want to keep critters out of your garden—but this trend recognizes the damage that development has wreaked on natural habitats, and responds by inviting wildlife into the garden. To create a pollinator garden, do your research on what kind of native plants you can incorporate into your landscape in order to attract local birds, squirrels, bees, and butterflies.
Want to know if your pollinator garden is successful? Just go out into the backyard and see if you can enjoy nature's show of pollinators enjoying your hard work.
6.) Build a Garden Pond
Speaking of gardening for local wildlife, have you considered adding a water element to your landscape? And no we don't mean a fountain (although fountains make a lovely addition to any garden!).
No, we're talking about building a pond. Not only can ponds produce a calming effect in your garden that will help you relax, but they're also beautiful and can actually add to the value of your home. Best of all, ponds come with many benefits for local wildlife! If you intersperse your landscape with pollinator plants and habitats around your new pond, your garden will be a flurry of pollinator activity.
7.) Switch To Artificial Grass
Artificial grass has been an up-and-comer in landscaping trends for years now, and it's easy to see why: not only does it look great all year long, but synthetic grass also requires little to no maintenance, leaving more time for you to focus on fine-tuning the highlights of your garden landscape. As an added benefit, there's no water required for artificial grass, which also makes it extremely cost-effective and environmentally friendly!
8.) Recycle and Reclaim Materials
With such heavy focus on sustainability, incorporating recycled materials into your landscape is arguably the most chic thing you can do in 2023. So, what are you waiting for? Repurpose those bricks! Reclaim that wood! Reuse any and all containers you can!
From unique flower pots, to garden pathways, to patio furniture that you've built by hand, the practice of recycling and reclaiming materials is bound to make your garden feel more unique—and more purposeful—than ever before.
9.) Plants as Privacy
One theme in 2023 is to incorporate natural elements in a utilitarian way. So, at the intersection of function and beauty, gardeners are turning to plants to create privacy in their gardens.
Instead of leaving your wooden fences bare, consider adding a vine system that can grow quickly and bloom. If you want to forget your boring garden walls and instead feel like you're in a fern canyon, invest in some pocket panels to create a "living wall." Rolling shelves, trellises, and hanging vertical garden wall planters are also great ways to transform your walls and fences into vertical gardens (and make that privacy wall a little prettier)!
10.) Upscale Relaxation
One side effect of the 2020 pandemic is that we now realize the importance of going on vacation—even if we can't leave our homes. That's why we're seeing people focus on transforming their backyards into an oasis where they can escape from daily life.
This year, you can expect to see people investing in more upscale elements that elevate their backyards from normal to high-end. This includes incorporating high quality furniture, beautiful outdoor rugs, outdoor kitchens, aesthetic water elements, fire pits, and more! This also includes remodeling projects, like redoing the patio, or adding a jacuzzi or pool.
Ready to Plot Your Own Trendy Landscape?
If this list has inspired you to begin planning your backyard oasis, call the professionals and McDonough Landscaping. We can help you design your space to capitalize on the trends that speak to you, and make your landscape uniquely yours.
At McDonough, our goal is always to provide our customers with a sustainable and high quality landscape design and installation, while providing the highest level of customer service from start to finish. To get started, give us a call at (651) 755-7901 to book a consultation with us today!