Starting in childhood, we're taught that plants need three things to grow: dirt, water and sun. Think about it for a minute. How many children's books wax on about the beauty of shade plants? The reality is, however, that shade-lovers rely on little or no sun to elicit their astounding beauty. If you're looking for plant ideas for shady spots in your yard, look no further than these 12 gems…
Dead Nettle
In contrast to its name, dead nettle grows easily and spreads beautifully. Its silver, white, yellow or variegated leaves make an attractive groundcover. It's not finicky and can grow in difficult places such as dry shade or underneath tree cover. It's spring blooms can be white, lavender or pink.
Lungwort
This plant isn't afraid to put on a show. Often heralded as a sign of spring, this early-bloomer's pink, coral, blue or white bell-shaped flowers emerge with their equally stunning silver-speckled foliage, adding great visual appeal to any garden. Lungwort loves rich soil and even does well in boggy places.
Astilbe
Rich, dense, feathery and colorful plumes are defining characteristics of this audacious plant. Foliage can be gold, various shades of green or dark red. Astilbe thrives in rich, moist soil and can grow tall and bushy, making it a real showoff in any home garden.
Japanese Forest Grass
If you're looking for a statement piece in your shady garden, this ornamental grass may be just the ticket. The golden or variegated foliage tolerates a wide variety of lighting conditions, works well as groundcover or even in containers and appreciates rich, well-drained soil. It's clump-shaped growth and cascading leaves make it a unique addition to any landscaping arrangement. Depending on the variety, you may even enjoy a harvest of reds, oranges or purples in the fall.
Primrose
Blue, pink, red, yellow and orange flowers define this classic beauty. Preferring cooler climates, primrose grows easily in rich, well-drained soil and can flourish in even deep shade.
Lady's Mantle
With its scallop-shaped leaves and nearly inconspicuous yellow-green blooms, lady's mantle is an easygoing classic. While it can tolerate sun, lady's mantle prefers shade especially in warmer climates where the sun can scorch its foliage. This plant prefers consistent waterings but doesn't like to be waterlogged.
As classic as Thanksgiving pumpkin pie, this hearty shade-lover is a versatile choice for shady spots in gardens and under trees. Available in a wide swath of colors, patterns and sizes, hostas love rich soil and regular waterings. Hostas grow great even in cold climates and will reward you with consistent, attractive foliage year after year.
Coral Bells
Gardeners love the fanciful foliage and wide variety of hues that coral bells offers. Named for its tiny, bell-shaped flowers, coral bells is hearty – it tolerates a wide variety of light and soil conditions – and is a great addition as a garden border, in a mass planting or in a container.
Ferns
Heralding from ancient times, ferns' decorative fronds add texture to any garden. They prefer rich soil and an abundance of moisture and look great both clumped together or as a tall, bushy backdrop for a variety of colorful flowers and foliage.
Coleus
Known for its rich colors and velvety texture, its patterns and colors know no end. In order to maintain its vibrancy, coleus prefers morning light and afternoon shade. Rich, well-drained soil and consistent watering is the perfect combination for this dramatic tropical plant.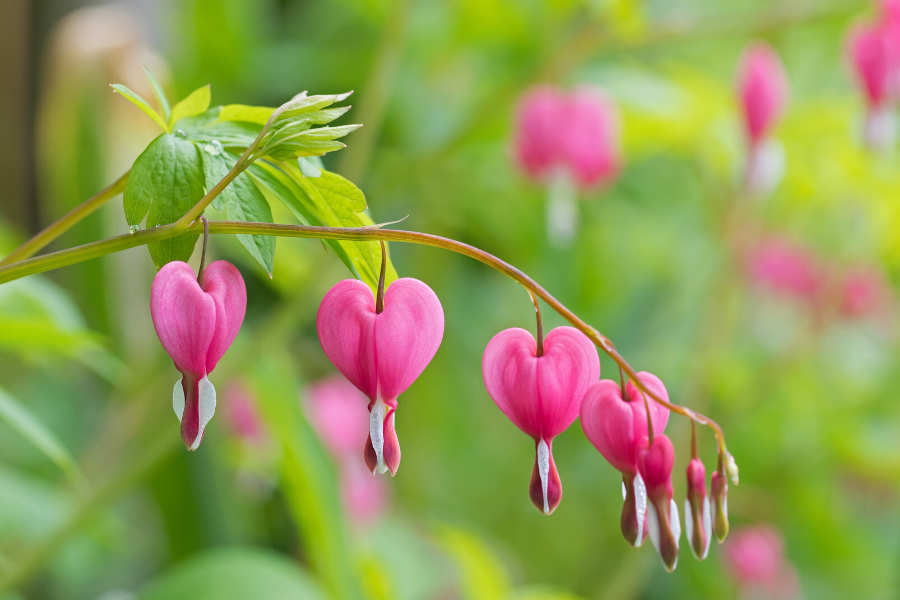 The pink, white and red heart-shaped flowers are the namesake of this beautiful perennial. Bleeding heart grows up in the spring and dies back in the summer and is best planted with low, bushy foliage that can cover its dying foliage. Bleeding heart loves rich, well-drained soil and prefers morning sun and afternoon shade.
Impatients
If you're looking for a shade-loving plant that provides you with color all season long, impatiens are a perfect choice. These annuals grow and spread quickly, are low-maintenance and require no deadheading. When it comes to impatiens, rich, well-drained soil and regular watering are the keys to success.
Do you have a vision for your landscaping project? Do you want help imagining the possibilities? Trust your landscape design and installation to the professionals at McDonough Landscaping. Contact us here or call us for a quote at 651.755.7901. We'd love to work with you!
If you missed it, check out our 7 Tips for Pristine Planting Beds here!