As Spring finally begins to announce its arrival in the way of warmer temperatures and tentative blooms, many Minnesotans are looking for ways to get out of the house and spend more time outside. And what better way to treat yourself to more time outdoors than to create a perfect outdoor living space?
The key to creating any cozy outdoor space, though, is choosing the right furniture. You want to make sure that your outdoor living furniture is made from materials that can stand up to your unique climate, while also facilitating a functional, beautiful space. 
So, whether you have a spacious backyard, a cozy balcony, or a charming front porch, we've got all the best tips to help you pick the perfect outdoor furniture for you and your guests to enjoy this spring and summer. 
What is an Outdoor Living Space? 
First let's define what we mean by "outdoor living spaces." An outdoor living space is a space outside of your home where you can relax, entertain, and enjoy the natural surroundings. An outdoor living space should feel like an extension of your indoor living space, in terms of both comfort and style.
Picking The Perfect Furniture 
Of course, if you want to create an extension of your home, you're going to need furniture. Types of outdoor living furniture can fall into four main categories: seating, tables, temperature control, and kitchen. When choosing furniture for your outdoor living space, be sure to select pieces that reflect your personal taste and lifestyle while also taking into consideration the unique characteristics of your outdoor environment. 
Seating
Undoubtedly one of the most important aspects of your outdoor living space, the type of seating you choose can decide whether your outdoor living space is utilitarian or luxurious. When choosing the type of seating you want, make sure to take into account its intended purpose, as well as the climate it will be exposed to.
Lounge chairs:

Lounge chairs are long, low to the ground, and reclining, making them perfect for sunbathing, reading, or simply relaxing in your outdoor living space. Consider choosing these chairs if you're designing a poolside space, and be sure to measure the area to make sure you have enough room for them. Choose high performance fabric that's comfortable, durable, and weather-resistant.
Sofas:

Outdoor sofas are ideal for creating a cozy seating area for conversations and gatherings, especially around a focal point such as a fire pit. Opt for sofas made of weather-resistant materials with UV-resistant cushions that will keep your sofa looking fresh all summer long. 

Built-in seating:

Built-in seating options such as benches or seating walls are great for decks, patios, or fire pit areas. These permanent seating solutions can be customized to fit your space and style, and you won't have to worry about storage over the winter. 
Folding chairs:

The most versatile and practical seating option, folding chairs are great for outdoor living spaces that require flexibility and easy storage. Choose colors that match your chosen aesthetic to elevate this seating option from campground to conversational. 
Porch Swings:

Porch swings are a timeless addition to any porch or patio, providing a charming and nostalgic touch. Look for swings made of weather-resistant materials such as metal, wood, or wicker, and pick out some nice cushions or pillows for added comfort.
Tables
One of the most popular ways to spend time in an outdoor living space is to gather friends for food and drinks, so that means your outdoor living furniture should include some kind of table. The type of table you choose should depend on how many people you hope to be hosting this summer, and what kinds of activities you plan on facilitating. 
Dining tables:

Are you planning on hosting full-blown dinner parties this summer? Dining tables are the largest option and would suit this purpose best. Choose a size and shape that fits your space, and make sure to choose weather resistant materials. 

Coffee tables:

Coffee tables are perfect for family game nights and cozier atmospheres. Look for coffee tables made of durable materials such as wicker or metal, and consider options with built-in storage for added functionality.

Side Tables:

Side tables are versatile and can be placed next to lounge chairs and outdoor sofas. Look for side tables that are small and lightweight, and choose materials that are weather-resistant and easy to clean.

Picnic Tables:

Are you looking forward to BBQ dinners this summer? Go with a classic picnic table. They're typically made of wood or metal and provide ample seating for a larger group of people.

Bar Tables:

Bar tables are excellent for poolside seating, or for when you want your balcony seating to have a view. As always with outdoor living furniture, choose weather-resistant materials. 
Temperature Control: Shade & Heat
What will make your outdoor living space truly "livable" will be the quality of your temperature control. During hot and muggy days, you'll want to create some sort of shade, and for when the nights are cooler, warm up the space with an outdoor heater or create ambiance with a fire pit. 
Umbrellas:

For those hot summer days, a good umbrella over your outdoor living space is a must. Choose your umbrella based on the size, design, and functionality to make sure it fits, literally and stylistically, with your existing furniture and space.

Pergolas:

Elegant structures with vertical posts and crossbeams, pergolas create a partially shaded area for enhanced aesthetics and airflow in your outdoor space. Consider the size, installation requirements, and compatibility with your outdoor space's layout and design.

Awnings:

Awnings extend outward from a building (typically above a door) to create a covered area, providing customizable shade and protection from the elements. Look for awnings with a compatible attachment method, made with weatherproof, durable materials. 

Gazebos:

These standalone structures are often the focal point of a garden or patio. With open sides and a roof, Gazebos can provide a seating area with great airflow and visibility. Look for durable materials such as aluminum or cedar, and opt for a gazebo with a sturdy frame and roof. 

fire pits:

Provide warmth and ambiance for your outdoor living space with a wood burning or gas powered

fire pit

. Choose a fire pit that's made of durable materials such as steel, cast iron, or copper for long-lasting performance. Additionally, consider safety features such as a sturdy base, spark screens, and proper ventilation to ensure safe and enjoyable fires in your backyard.

Outdoor Heaters:

Don't get left out in the cold

like we did the summer of 2020

! Snap up your propane, natural gas, or electricity, outdoor heaters now so you can enjoy a comfortable evening outside when the temperature is on the chilly side. Consider the size, design, and safety features of the outdoor heater, as well as its heat output and energy efficiency, to ensure it meets your heating needs.
Outdoor Kitchen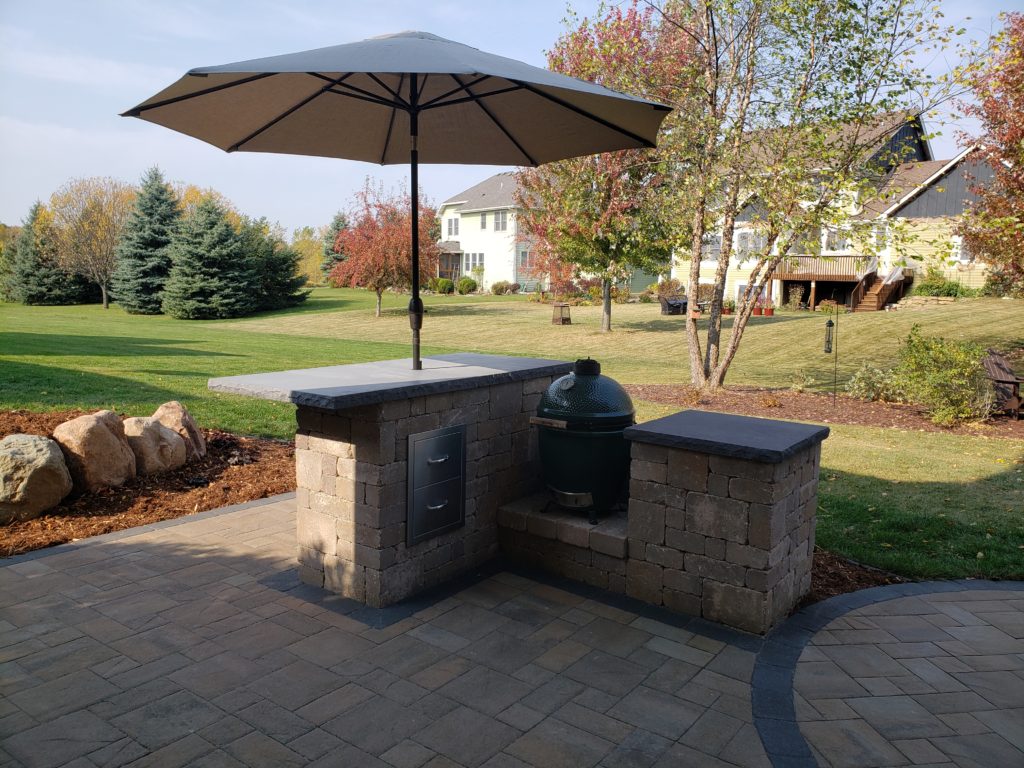 The crown jewel of any outside living space is, of course, the outdoor kitchen. After all, food is what brings people together, and your outdoor kitchen is where all the magic happens! 
Grills:

Grills are the heart of any outdoor kitchen. Look for high-quality grills that are built to withstand outdoor elements and provide optimal cooking performance. Consider factors such as size, fuel type (gas, charcoal, or electric), cooking features, and durability.

Islands:

Outdoor kitchen islands are a popular choice for creating a centralized and organized cooking space. Look for islands made of weather-resistant materials such as stainless steel, stone, or tile that offer ample counter space and storage options for added convenience. 

Countertops:

Need more counter space than an island would afford? Opt for outdoor kitchen countertops. These will provide a larger surface area for food preparation, serving, and dining. Materials can range from granite, concrete, or tile.
Choosing the right furniture for your outdoor living space is crucial in creating a functional, comfortable, and inviting environment. With the right furniture, you can transform your outdoor living space into a cozy retreat where you can relax, entertain, and enjoy the beauty of the outdoors.
Ready to Build Your Outdoor Living Space? 
If you're looking for professional help in building your outdoor living space, contact McDonough Landscaping today. Our experienced team can help you design and create the perfect outdoor living space for your home, beginning with the creation of a patio design and then enhancing it by adding additional elements. If you're ready to transform your outdoor space into a beautiful and functional retreat, call us at (651) 755-7901, or reach out to us online. We look forward to helping you build your backyard oasis this season!