Buying a home can be both exciting and overwhelming. Moving into a new home is a lot of work, but it gives you a fresh space to make your own. Depending on your home and the plans you have for updates, you may have a lot of projects on your to-do list. As the snow melts and temperatures warm up, those projects probably include sprucing up your outdoor living areas.
If you have big dreams for your new outdoor spaces, we can make them a reality. We offer a number of landscaping services to help make your new house and yard feel like home.
General Landscaping
The right landscaping can turn a simple backyard into an oasis. Flowers, plants, trees, and shrubs add beauty to your yard and enhance the aesthetic value of your home.
Our professional landscaping services include the installation of all the softscapes your yard needs, including:
Landscape design
Gardens and perennial plantings
Tree and shrub planting
Landscape edging
Shredded wood mulch and landscape rock
Drainage control and grade correction
Not sure what plants would be right for your yard? Our MN Nursery and Landscape Association-certified designer can recommend the right plant material for your space. Plus, we warranty the plants we install for one year.
Outdoor Living Spaces
Your outdoor living space should be an extension of your home, reflecting your style, design, and lifestyle just as your home's interiors do. Whether your space is big enough for a luxurious pool and entertaining area, or has just enough room for a cozy patio for two, we can help you create a space you will love spending time in.
Our experienced team will create a design for your patio area, finishing it off with the addition of elements, like:
Pillars and seat walls
A bar/buffet island
A fireplace or fire pit
An arbor, pergola, or pavilion
Even a pool!
Patios, Walkways, and Driveways
Using only the highest quality materials, our certified installers will construct a patio, walkway, or driveway that will enhance your home for years to come.
Patios
The patio is the gathering space of the yard — the perfect spot for everything from a dinner for two to outdoor parties and family gatherings. Whether you have a small, cozy space or an area large enough to entertain crowds, a well-designed patio will enhance your home's appeal and reflect your unique taste and style.
We specialize in installing interlocking pavers, and are also experienced with natural stone, block, brick, loose materials, and tile.
Walkways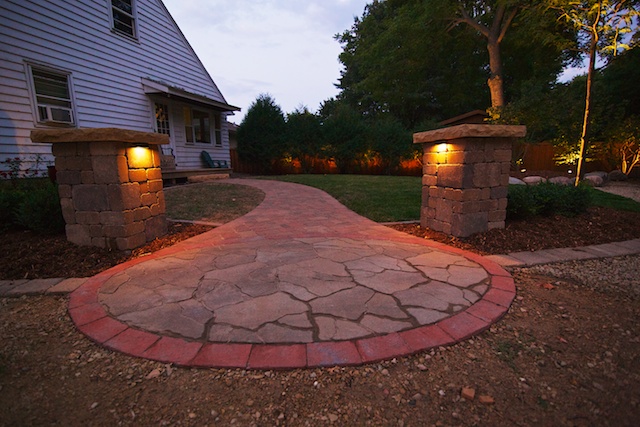 Walkways not only help you easily move from place to place throughout your yard, they can add definition to the layout of your outdoor space. And a well-thought-out front entry walkway will increase your curb appeal and add value to your home. Walkways can be ornate, if that's your style, but they don't have to be — a simple path made of stepping stones may be all that you need.
Driveways
As the largest structure in the front of your home, your driveway's design affects your home's curb appeal as well as its function. When we design your new driveway, we take into account the way it will fit into the overall landscape and aesthetics of your home, as well as functional aspects like parking, maintenance, and durability.
Retaining Walls
Retaining walls do more for your yard than you might think. They can:
Add structural elegance to your landscape
Control erosion
Manage drainage
Eliminate unusable hills and slopes
Create level areas for patios, gardens, and other structures
While many yard projects can be done without professional assistance, retaining wall construction is not a DIY project. A retaining wall is a structural system that must be designed and installed correctly to avoid failure or collapse.
Our National Concrete Masonry Association-certified installers and landscape designers understand the underlying engineering principles, soil characteristics, drainage control, and installation requirements needed to correctly place retaining walls.
Choose from a variety of material options, including segmental blocks, boulders, natural stone, wood, and more to complement your home's design.
Landscape Lighting
Landscape lighting, when done well, can help you enjoy your outdoor living areas even more than you already do. Well-designed landscape lighting enhances your yard's beauty while also adding safety and security to your outdoor space. It also allows you to enjoy your yard well after dark — meaning you can spend more hours of the day outside.
Our trained and experienced staff will design a landscape lighting layout that highlights the best aspects of your home and yard, brightens dark corners, and ultimately turns your yard into a nighttime portrait you can admire every night.
Water Features
The sights and sounds of a water feature add peaceful tranquility to your yard. Relax to the sound of water with a small fountain, bubbling rock, or pondless waterfall.
Our expert team can design and install a water feature that perfectly complements the aesthetic of your outdoor living space. Choose from ponds, waterfalls, fountains, and more! Or if you're looking for something larger, we can design and install a babbling stream running through your yard or a peaceful pond complete with fish and aquatic plants.
Landscape Maintenance
Enjoy your yard and leave all the work of landscape maintenance to us. We offer seasonal landscape maintenance including:
Planting bed startup. This service includes pruning, light cultivation of mulch, and general clean-up of all planting beds. We'll also apply a slow-release granular weed preventer and a spring fertilizer and trim edging lines as needed.
Planting bed topdressing. We'll apply a fresh layer of premium shredded wood mulch to your planting beds. The best time to do this is after planting bed startup in the spring.
Weekly or monthly maintenance. We'll prune, clean-up, cultivate, weed, and monitor plant health on a weekly, bi-weekly, or monthly basis depending on your landscape and desired level of service. In addition, weed control products and planting fertilizer will be applied as needed. This service begins in May and ends in October.
Summer cleanup. A one-time cleanup of planting beds for those who don't need weekly or monthly maintenance. This service is typically performed late-June to mid-July.
Fall planting bed cleanup. We'll prune back perennial growth, remove fallen leaves, and prune shrubs and ornamental trees as needed. This service begins in late October and finishes in November.
Seasonal displays. We offer hanging baskets, pots of annuals, and splashes of color in your planting beds to decorate your outdoor space for each season.
Mosquito control. We offer a variety of mosquito control measures, from organic spraying before an outdoor event to seasonal plans utilizing conventional chemical sprays.
Residential snow removal services. We'll take the pain out of snow removal so you can enjoy the magic of the season. We can plow your driveway, clear sidewalks and walkways, salt and sand icy areas, and move excess snow safely and evenly.
McDonough Landscaping Services Can Help Make Your New House Feel Like Home
If landscaping, hardscaping, planting bed cleanup, or any of our other services are on your to-do list for your new home, McDonough can handle the work for you so you can sit back and enjoy your home and yard.
Contact us today to learn more about any of the above services and to get on our calendar for your spring or summer landscaping needs.