Among its many benefits, landscape lighting enhances the beauty of your home and its outdoor spaces. It sets the mood, welcoming you and your guests. But with the wealth of lighting options available, determining what lights to use and where to place them can be overwhelming. Here are our top tips for landscape lighting placement to create a beautiful and welcoming effect in your yard.
Show Off Your Home's Exterior
Before you get to the rest of your yard, first focus on using landscape lighting to highlight your home's best features, keeping its most appealing focal points visible at night. Position lighting fixtures to highlight the walls of your home and to call attention to its architectural features.
Take Safety & Security Into Account
In addition to enhancing the beauty of your home and yard, landscape lighting can also provide a measure of safety and security at night. Outdoor lighting is a simple and proven way to deter potential intruders. You don't want to light up your home so much it becomes a target, but you do want to thoughtfully place lighting around the exterior of your home to brighten up any dark or hidden areas. Additionally, well-lit pathways, steps, and decks help keep you and your guests safe from a slip or fall.
Create Layers of Lighting
One key to creating a beautifully-lit landscape is to create layers of lighting. Don't cluster lights together—it will only draw attention to the lights themselves rather than the area you are trying to highlight. Instead, position several spotlights at different angles toward the object or area you're illuminating. This creates layers of lighting that reveal silhouettes and make for a more dramatic effect.
Get Creative With Pathway Lights
When lighting up pathways and walkways on your property, don't place lights in a straight line. This produces a bland appearance and can make guests feel like they're walking down an airport runway. Instead, opt for a more creative setup—not so creative it's distracting or doesn't properly light your walkway, but just enough to add interest to your space.
Stagger the lights or aim them so they shine down the path, and keep them angled down to avoid glare. You want to create a warm, inviting pathway that welcomes guests to your home. Note: When placing pathway lights, keep in mind the risks of them getting kicked or struck with the mower or snowblower.
Highlight Featured Objects and Brighten Dark Corners with Accent Lights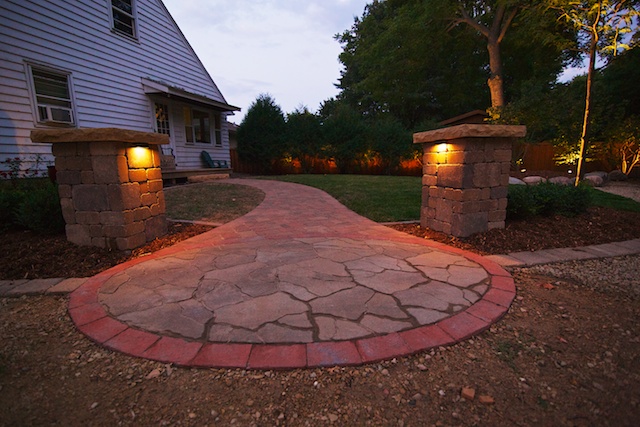 Accent lighting utilizes a narrow beam of light from a hidden fixture so all of the focus remains on the object you are highlighting. Even a small accent light can make a big difference, especially in the dark corners of your yard. And as we mentioned above, brightening these small, out-of-sight spaces will not only make your yard more beautiful, it will help deter potential intruders.
You can also use accent lighting to show off the best features of your outdoor spaces. Draw attention to your objects such as statues, water features, or your favorite trees. For added beauty, try using green or blue lighting to accent greenery or yellow lights to boost yellow-leaved plants or flowers.
Light Up Water Features
Use lighting to add a soft glow to your water features. Moving water can be especially striking when illuminated from below. Water lighting can be installed both above and below the surface of the water in your pond, pool, spa, or other water feature. Use lighting to illuminate underwater stairs in your pool or spa; provide uplighting in your koi pond; or simply highlight your water feature at night for beauty and safety.
Opt For LEDs
LEDs are a favorite lighting choice because the bulbs require lower voltage than incandescent ones and can last up to 10 times longer. And don't worry, opting for LEDs doesn't mean you have to settle for cold blue lighting: today's LEDs have plenty of warm tones to choose from. A 40-75 watt bulb is ideal for outdoor fixtures—anything brighter and you'll end up with a glare rather than a warm glow. Using soft, downward-focused lighting will also help avoid glare.
For even greater energy savings, consider including solar lighting in your landscape. Solar lighting has become very popular in recent years because it is energy efficient, affordable and easy to install and move. Solar lights absorb sunlight, using photovoltaic cells to transform that light into energy that can be used even when there is no sunlight available. A combination of solar and LED lighting gives you the most energy savings, and is the ideal choice for driveways, decks, pools, and walkways.
Getting Started with Landscape Lighting
Ready to get started with landscape lighting? First things first, you need to do a bit of prep work to plan out your lighting placement:
Determine your lighting goals for each area of the exterior
Visualize what it will look like both on the outside and from inside your home looking out
Draw a rough sketch of your desired layout
Make note of areas you could add extra lighting in a second phase if needed. Don't overdo it the first time around—you can always add more lighting later.
Once you have an idea of what you want, give McDonough Landscaping a call to get on our calendar for installation. Not sure what you want or even where to start? We can help with that too. Our highly trained staff can recommend the areas of your home and yard that should be highlighted and create a landscape lighting plan for you. Contact us to schedule a landscape lighting consultation today!